Ferrer CREA, LLC. anticipates Industrial vacancy will continue to climb in the first half of 2018 due to new Distribution Centers (DC) product coming on line.
Much of the new deliveries are large distribution centers which will have an outsized impact on vacancy rates. These larger 300k+ SF products will move the needle significantly more in a market like Charleston which has less than 74 million SF*.
This does not indicate softness in the market as available facilities under 100k SF remain few and far between and many of the remaining inventory is functionally obsolete.
New product is desperately needed in this market segment!
While not as appealing to many developers due to lack of scalability and limited green field sites, the reality is that the Charleston industrial market is fueled by buildings between 10k-50k SF as this is where the overwhelming majority of the deal velocity occurs.
Charleston has had no shortage of developers looking to enter the larger scale distribution center game since Hillwood originally purchased the project Blue Bell site over a decade ago.
Since then we have been hearing that port expansion and increases in productivity would result in more cargo and in turn would demand for larger DC's.
We have had a few significant transactions in Charleston, but nowhere near the deal velocity that has been speculated about for years. The reality? Cargo stops where the rooftops are located.
The Charleston MSA does not have the population to support explosive DC center development and lack of available green sites in close proximity to the ports is also an incumbrance.
The port has identified these constraints as well, as evidenced by their continued investments in rail and inland port projects, which will further reduce local demand for warehouse space.
So what is the best way to capitalize on the Industrial market trends in Charleston?
Want to learn more? Feel free to contact me with any questions you may have!
Commercial Real Estate Broker in Charleston, SC
Mike Ferrer, CCIM, MCR has over 15 years of commercial real estate Brokerage and Development experience. With a focus on warehouses, manufacturing, office buildings, vacant land, and Investment Sales. He opened his own brokerage in 2015, and has completed over $225,000,000 in transactions throughout the Lowcountry.
Mike is the past president of the Commercial MLS for the state of South Carolina and has served on many other civic and philanthropic boards. Mike has a plethora of commercial real estate knowledge and established ties to the local community both statewide and stretching across the entire southeast.
Follow Ferrer Commercial Real Estate Advisors, LLC. on Facebook, Twitter, YouTube, & LinkedIn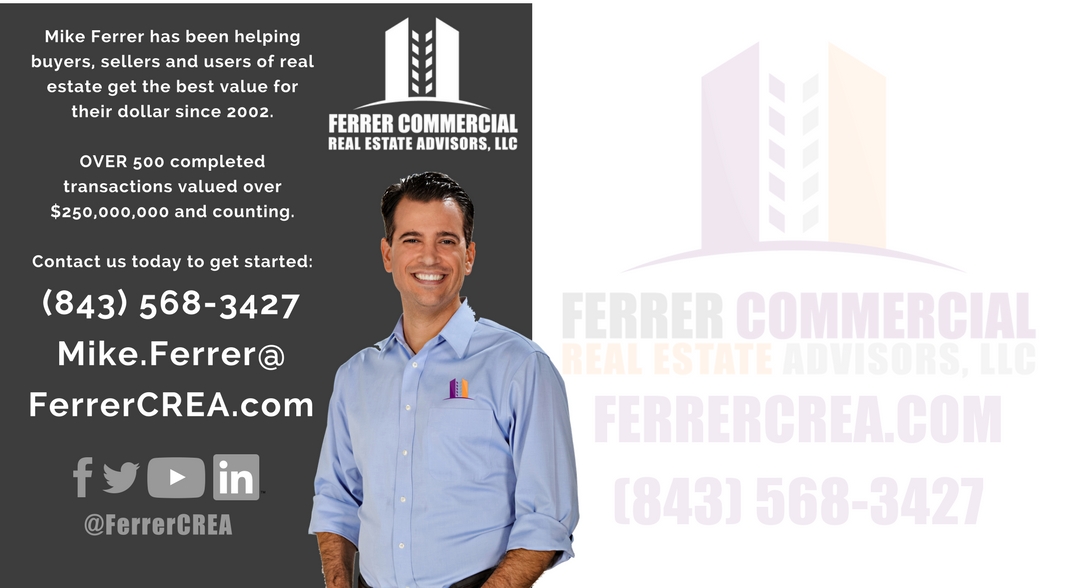 Statistics from Costar.com.  The information contained herein was obtained from sources believed reliable, however, Ferrer Commercial Real Estate Advisors, LLC makes no guarantees, warranties, or representations as to the completeness or accuracy thereof.